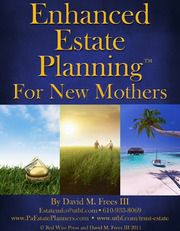 In this report, Pennsylvania Attorneys, Super Lawyer, and Top Estate Lawyer in Main Line Magazine, Dave Frees is interviewed by about the estate planning issues faced by new Moms.
In this interview and report, Dave covers the most common and Frequently Asked Questions, worries and concerns that new moms have about estate planning. But, he also covers the SAQs or Should Ask Questions that even the savviest new moms don't always know to ask.
Once you know the answers, then you know just what to do to make the worries and anxiety just disappear and to know that you're doing the right estate planning for new moms.